October 25, 2011
by Stephen Jan in Tenafly, NJ
A giant American ambulance driving through Africa, to Timbuktu, from London, will surely garner a good bit of attention. With a 7 liter diesel engine we're sure to be one of the noisiest vehicles in the convoy. Now all we need is a kick ass paint job to ensure that African locals do a double take as we barrel through unsuspecting villages in a vehicle that has no business in the neighborhood.
The art department(Mike) came up with a concept, and team gave it vigorous stamps of approval. Have we done this before? Well ask any of us if we've ever purchased an ambulance before, if we've shipped a car overseas, or if we're prepared for africa and you'll get a similarly confident "Nope".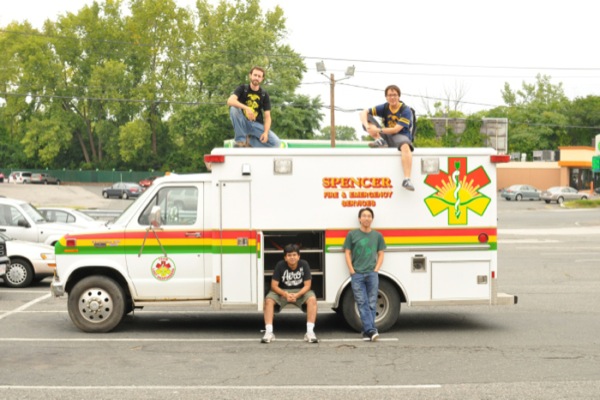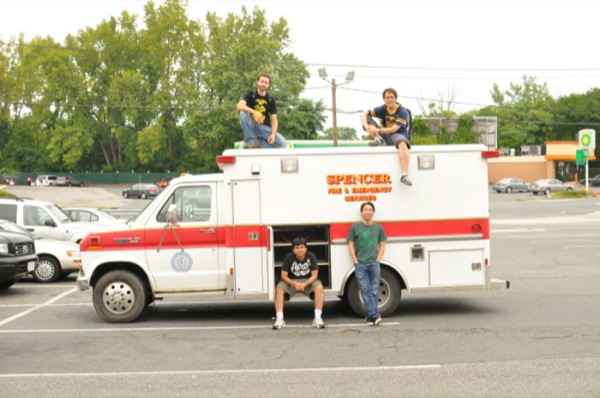 We sat down and thought about what it would take to realize our vision of green yellow and red racing stripes along the sides of the car. The plan looked something like this:
Buy Rustoleum spray cans (20 minutes)
Get people together (1 hr)
Paint (2 hrs)
Party!! (10 hrs)
We planned to get everything done on a Sunday and to spend most of the day hanging out and drinking cold German beer. I mean how hard could it be?
Well for starters I waited till the last minute to buy the paint expecting Home Depot on 23rd st to have everything. They do in fact have a wall of spray paint, but they don't have "Rustoleum Gloss Protective Enamel 7731830 Grass Green", neither does any other hardware store in Manhattan. You can forget about anything being open in New Jersey despite the assertion of the bagel guy in Tenafly who was absolutely convinced that he knows everything about New Jersey and that the one in Paramus was "Wide Open".
Anyway, this is what it ended up looking like and it spanned 2 Sundays.
Get people together (3 hours)
Get stuff together (1 day)
Cover ambulance with plastic sheeting (2 hours)
Tape up surface(3 hours)
Spray on grey primer (15 hour)
Wait for grey primer to dry (30 minutes)
Spray on white primer (15 minutes x 2)
Wait for white primer to dry (30 minutes x 2)
Spray on yellow (15 minutes)
Wait for yellow primer to dry (1 day)
Tape off yellow (2 hours)
Spray on green (15 minutes)
wait for yellow primer to dry (20 minutes)
Touch up yellow and green (1 hour)
Remove yellow and green paint from surfaces (2 hours)
Remove tape and sheeting (1 hour)
Go home and sleep x2
When I think painting, i generally think it'd be a job where i'd spend all my time slapping color onto some surface. Makes sense, but no. Slapping color onto the ambulance is pretty quick. It's the part where you sit around waiting for paint to dry for the next coating that will drive you mad with impatience. Anyway. The end product is pretty close to the original concept. I must say i'm pretty proud. It's a beaut if I must sayso myself.