December 20, 2011
by Stephen Jan in Tangiers, Morocco
We reached Tarifa last night at around 5AM, exhausted, and especially dirty after not having showered in more than four days.  The organizers were good enough to book two nights at the Mason de Sancho, which in my book was pretty luxurious.
Since Paris, the only stop we made was to Seville where we checked out a mural that one of Mike's friend Eric painted. It's a shame that we couldn't spend more time in Spain and France. The people we met so far have been super nice and hospitable but the real challenge is in Africa so we had to keep moving along.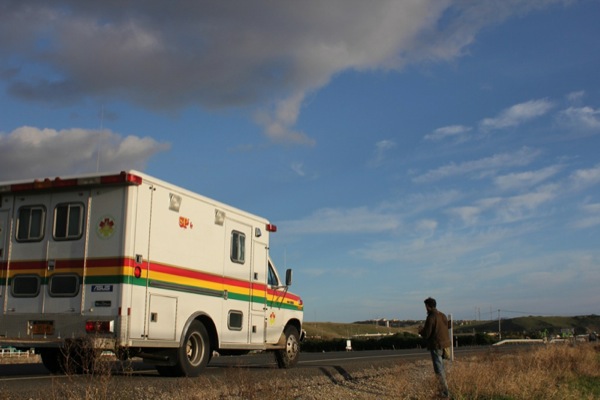 At the hotel, we've finally managed to link up with the other teams. It looks like a pretty international lot. There are teams from the UK, Portugal, Canada, Mexico, and New Zealand taking all sorts of cars. So far, everyone thinks the rasta colored Ambulance is awesome.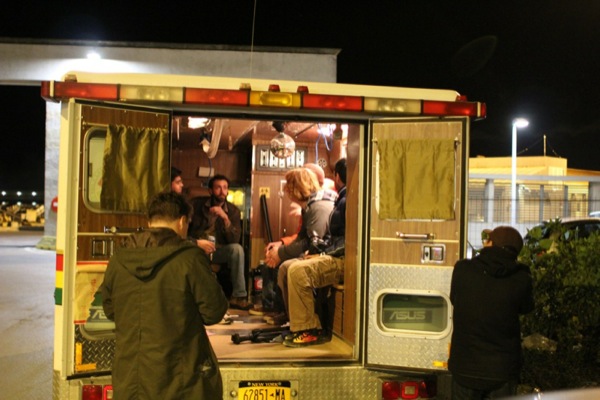 After being quoted prices as high as 267 euros to 110 euros, we settled on a 130 euro ticket to Tangiers port from the ticket office at Algeciras. We will be departing tomorrow. Hopefully the crossing will be painless. We've heard stories where corrupt border officials will slap teams with surcharges on the boat. Plus there's that unknown thing where officials are always asking for documents that we know nothing about.
-Stephen