July 27, 2010
by Stephen Jan in Paris, France
We left Goodwood and headed toward the chunnel taking the scenic route along the southern English coast through Brighton, Hastings, Folkstone and Dover. Along the way we picked up a kilo of fantastic Kent cherries at a roadside cherry stand and then banded up with a black fiat coup, pimpin two giant racing stripes, a tiny pink minivan daihatsu that sorta looked like a clown car, and a sedan driven by a racoon, a giraffe, and a tiger.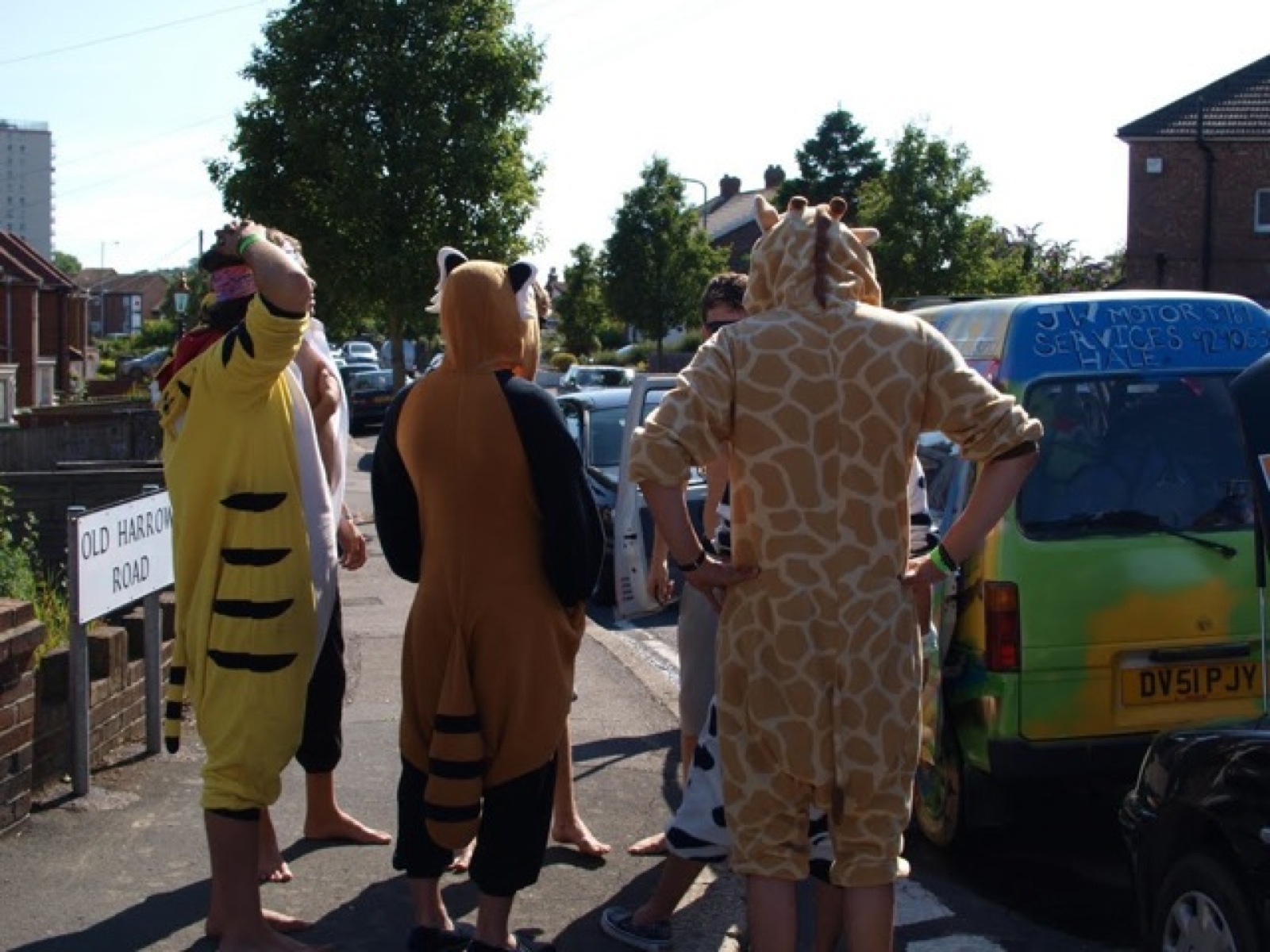 Our initial plan to drive through Gießen fell through as it turned out that we needed to pick up tom at Charles de Gaul airport on Monday morning. We rerouted our path to reach paris by the 26th and planned to barrel our way to prague to make czechout. That left Sunday for prepwork and rest. We hugged the northern French coast starting from Calis, looking for a suitable place to pitch a tent.
We stopped at a tiny town called Samer, 200 km outside Paris hoping to find a cheap camp ground. We pulled into a tennis club along the road with smartly dressed people loitering in the parking lot. They immediately took notice and unabashedly approached us. Lillie stepped out of the car to ask for directions in French while a boisterous crowd of drunk french men began to grow around the ambulance.
One started talking to me through the driver side window in French, I reached back 15 years into the recesses of my mind and tried to dig for some rudimentary French I learned high school but all I could come up with was a blank look, a shrug, and "je ne parle pas francais"
It became clear that we had crashed a wedding and the wedding guests hanging out in the parking lot were piss drunk and probably as high as a kite as apparently one guy was trying to offer me a joint.
The wedding guests sent us down the road and wished us the best in our journey. The camping ground wasn't hard to locate but was not clearly marked, so we overshot the stop and turned around after a few helpful teenagers pointed us back on track. We pulled into a lot, pitched our tent, and stayed the night at what looked like a trailer park for a couple euros. I hadn't realized that these communities existed in France but apparently you can rent a little lot here for very little, setup a mobile home or tent, and proudly call yourself French trailer trash.
On sunday morning i woke up to the loud, God awful crowing of roosters - apparently living next door not 10 meters away behind a wall of giant shrubs. I must say I've never experienced being woken up in the morning by roosters at 4-5 am - not cool.
We spent the next couple hours cleaning, organizing our luggage and mounting our roof rack onto the ambulance. Once we settled the camping fee of 2 euros we went and looked for some food. Being as it was Sunday our expectations weren't so high. The first restaurant we found displayed an open sign at the store front only to find the place dark and doors locked. The second place actually had people eating inside and sipping wine. They politely refused to serve us and sent us down the road to Mcdonalds. I won't lie, I felt a bit insulted.
Mcdonalds hooked us up with some free wifi and we were able to check e-mail. The adventurists reported that one of the Mongol Rally teams got into a car accident 1.5 hours from Goodwood. Their car was smashed by another while it was stationary!
We headed toward Paris to take the ambulance into the city for a midnight joy ride garnering stares even from Parisians. After some overpriced open face sandwiches prepared by the waiting staff in the absence of the hard working chef. We took a picture of the ambulance in front of the Eiffel Tower, headed to CDG airport, and found a "most likely" legal parking spot near the airport. Lacking facilities to pitch a tent, we slept in the ambulance for the first time.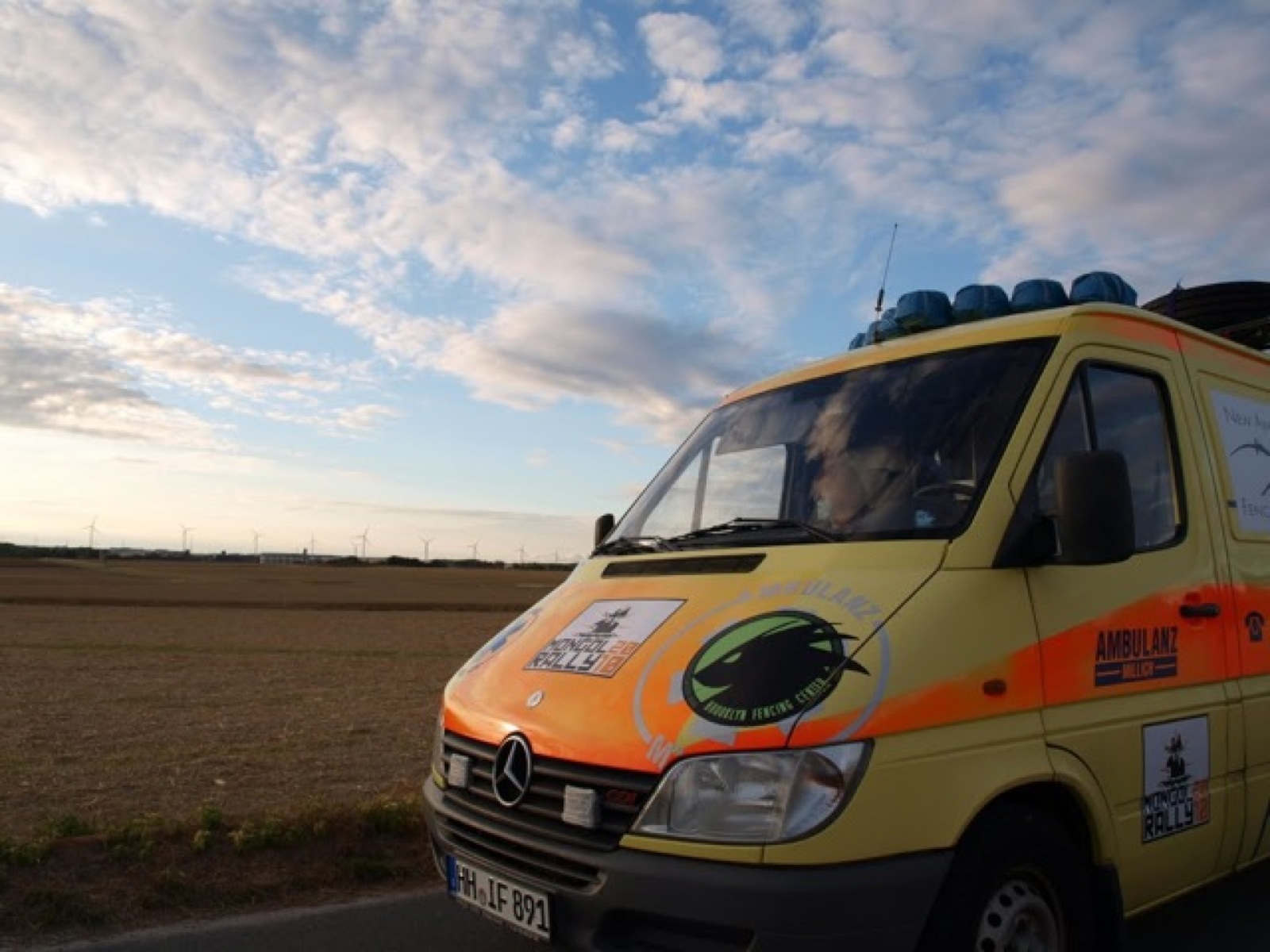 -Stephen the adventure ninja