August 08, 2010
by Stephen Jan in tbilisi, Georgia
We spent about an hour at the border crossing leaving Turkey and entering Georgia sweating in the heat with shady truckers and serious looking border guards wearing big hats. 30 seconds into Georgia we found a beach town crowded with half naked Turks and Georgians toting inflatable tubes, rafts and purple dinosaurs.
Our first stop was at the coastal city of Batumi for some Georgian meat dumplings and traditional cheese bread. With the absence of road signs to guide us, we resorted to asking locals on the street for directions. Most locals were pretty clueless about the roads but we somehow managed to crisscross out of the city toward tsblisi.
The main highway leading to Tsblisi was a narrow, single lane road winding through little towns, spiraling up and down the caucus mountains with hairpin turns. Half starved cows and goats dot the roadside and would occasionally block your way. Georgia was through the day stopping only three times - once for dinner (more cheese bread), once at a roadside Georgian vineyard where we picked up a couple liters for wine in a plastic coke bottle, and once for a hammock we planned to string up in the ambulance.
We weren't having much success in finding that perfect camp ground along the bank of a pristine stream and picturesque view. Night had settled in and it was hard to see much of anything. As we searched on, driving through the night, someone noticed that we sped by an out of place looking blue car parked behind a gas station. We did an "legal" U turn on the "high way" to investigate and discovered the team One Steppe Away buying water and Bataarheroes buying m&m's.
Our teams collided in the driveway of the gas station to the cheers and hollers of joy. Simultaneous chatting erupted with each of us eager to compare mongol rally "journey so far" notes. Team Battarhero suffered an unfortunate stolen passport in Istanbul. After burning days trying and failing to get the russia visa to be reissued, they were 2 people down and on a tight timeline to reach Mongolia.
The two teams were also looking for suitable camp ground but had decided to keep pushing on to Tbilisi. Team Batarhero took the lead, followed by One Steppe Away and followed by the Mystery Mobile.
Tsblisi welcomed our convoy with a nice sized pothole that did a number on the leading Batarhero car requiring a midnight tire change to an audience of amused police officers. After that rest stop, we stopped at a hotel for the night thereafter.
The convoy left early next morning wanting to push on toward Georgia. We opted to sleep in and check out tblisi. We witnessed an odd episode where a local vagrant asked us for money while we were sitting down to coffee. We expected him to just walk alway when we wouldn't give him any. Instead, he walked into the cafe and bit our waitress in the hand. As if that wasn't odd enough, the waitress didn't seem all that surprised.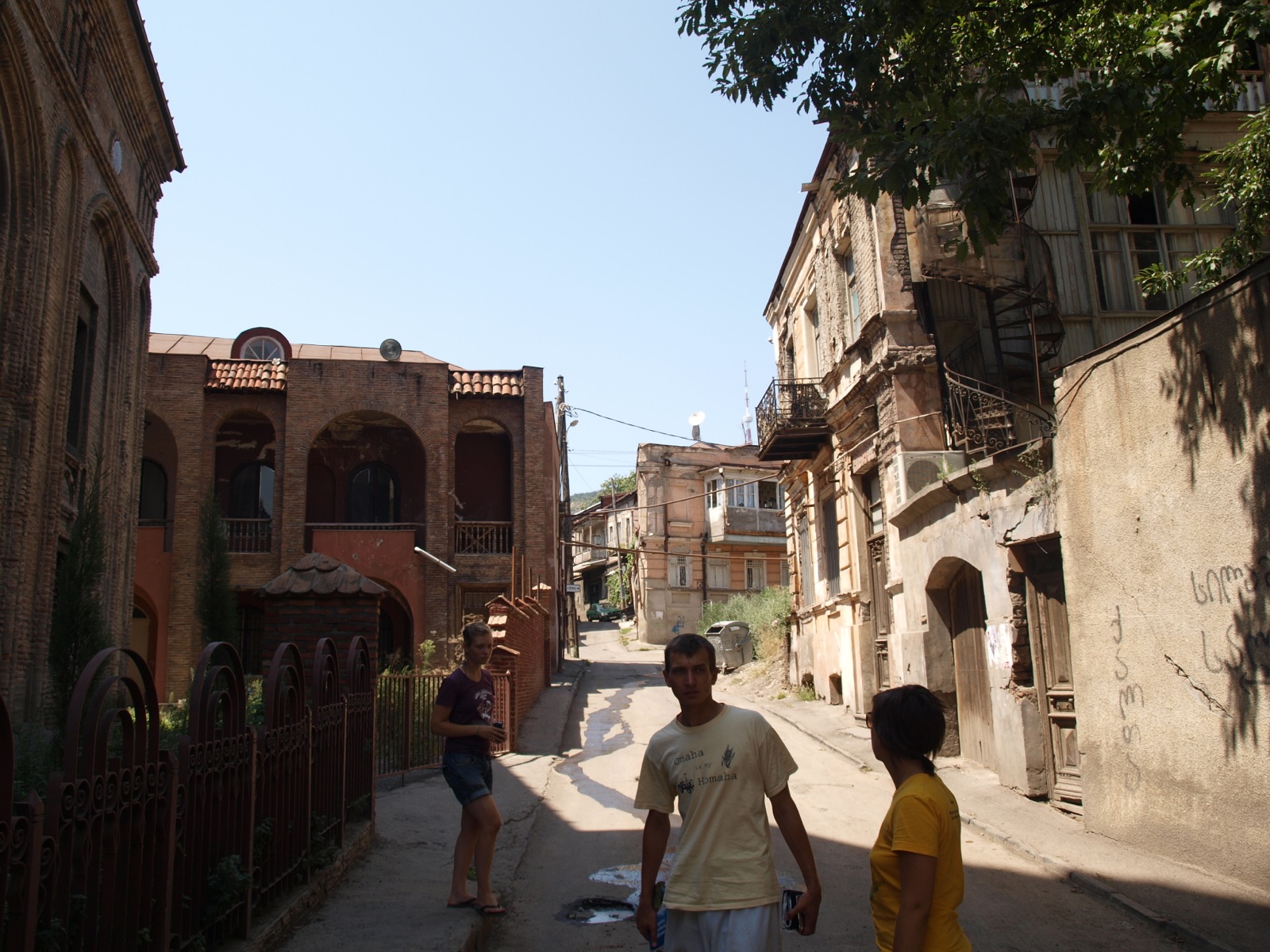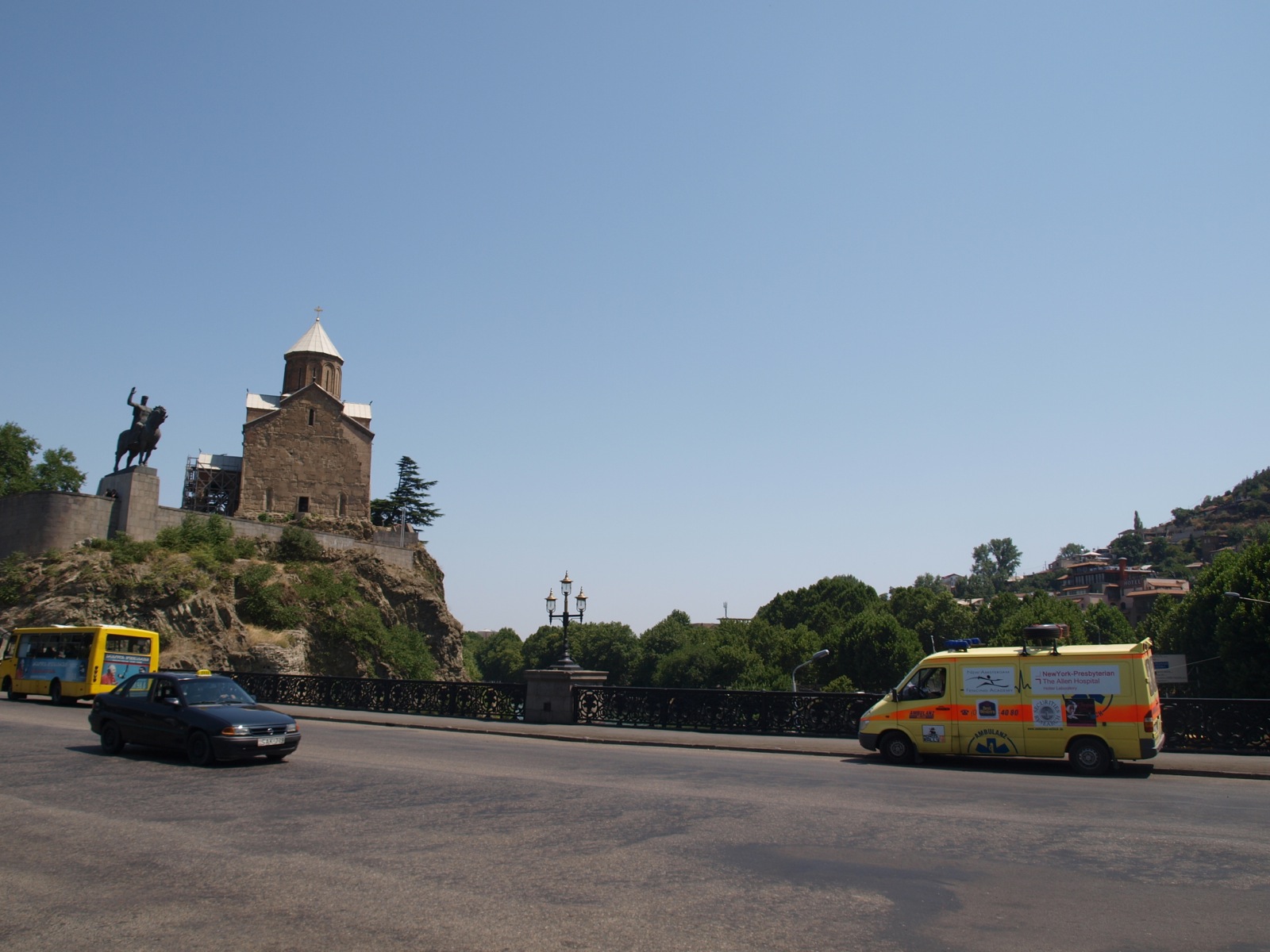 -Stephen