August 02, 2010
by Judy del Cuadro-Zimmerman in Athens, Greece
Meanwhile…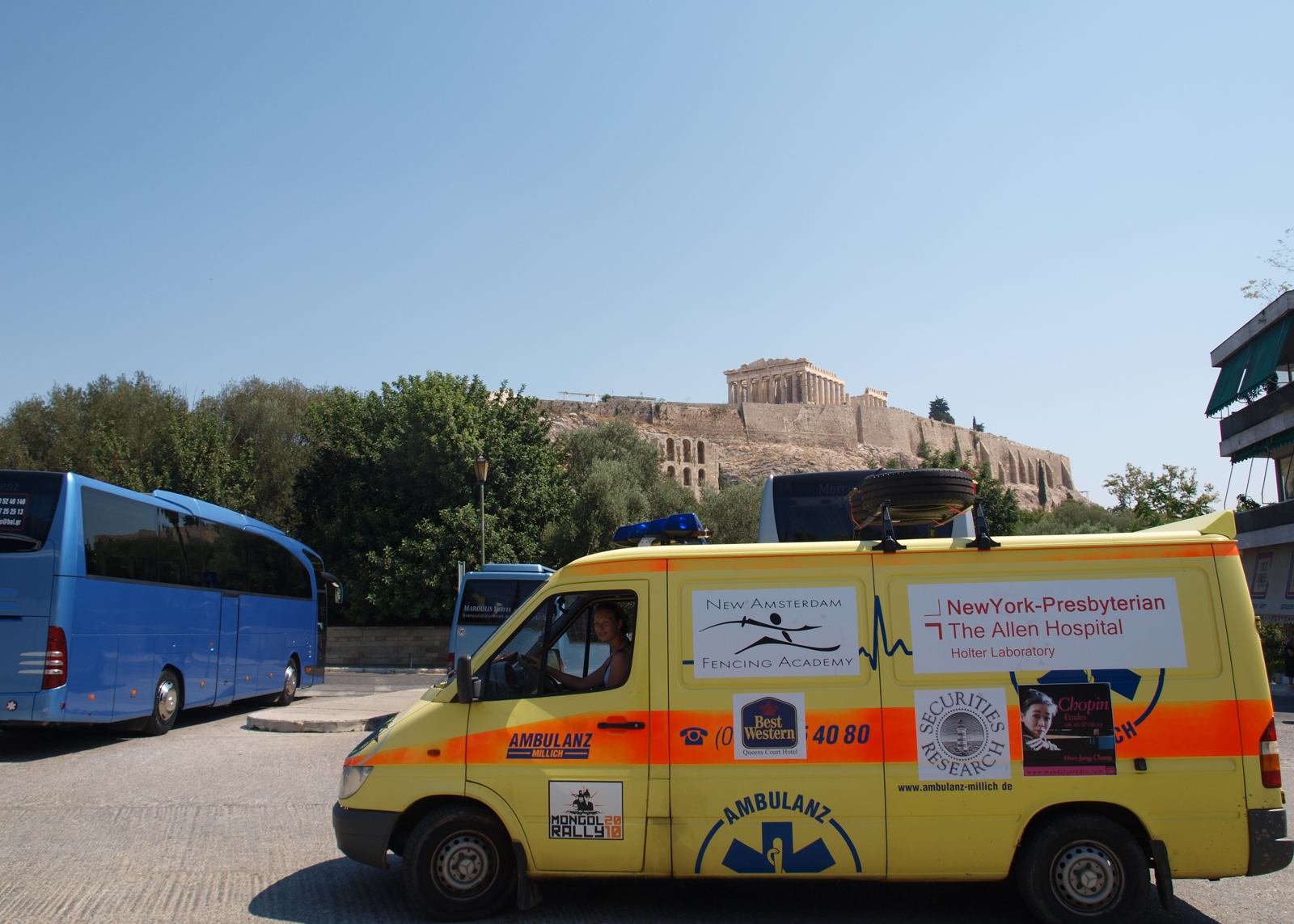 Lillie and Stephen dropped Tom and me off in a parking lot at the Acropolis. We agreed to meet in that exact spot in nine hours promptly at eight o'clock pm. "Nine hours," we all repeated "no one be late." We agreed that in a dire emergency we would call Lillie's cell phone since she is the only one with a functioning phone at all.
Tom and I rushed off practically skipping down the roads of the Acropolis to Athens' center excited about the prospect of a day of exploration after being cooped up in Penny for days on end. We had also been charged with a mission: find out if we could somehow ferry across the sea with Penny from Athens to Turkey. With nine hours to accomplish our mission, however, we decided we needed to fortify ourselves with some traditional Greek food first. We settled on a small bistro called "Smile" that advertised inexpensive lunch specials which included wine. The food was delicious and abundant, as we had come to expect in Greece, and the manager of the restaurant was a warm and talkative hostess. In fact, she had lived in Chicago for quite some time and, to Tom's surprise, knew Notre Dame well.
After our meal, we turned to accomplishing our mission in earnest. First we tried finding some travel agencies, but they were all closed because it was Sunday. We decided a fancy hotel would be the next best place to ask. We stopped at the first large hotel we came across, and inquired with the receptionist about a ferry to Turkey. She said she could look into it and get back to us if we would tell her our room number. "We actually aren't staying here" I said, expecting her to turn us away without any new information. However, she didn't skip a beat before suggesting that if we could wait half an hour she would look into it anyway. We happily complied, deciding to pass the time over coffee at the rooftop restaurant. The restaurant had a magnificent view of the Acropolis and the city center sprawled below. Tom and I agreed while gazing at the vista surrounding us that this coffee may have been the best one we ever drank while looking at the acropolis. When we finished our coffee we headed back to the reception desk. The receptionist was able to give us some information, but it was clear that further investigation would be necessary. We decided we had to head to the port city to get definitive information. We thanked the receptionist profusely stumbling over the Greek "efharetso."
We bought bus tickets at one of the many kiosks lining the streets and boarded the bus to Peirias. It was easy to find since many of the passengers on the bus were wearing bathing suits and obviously heading in the same direction. After speaking to several travel agencies at the port, the news was disappointing. There was a boat leaving the next evening, but there was only one space left and we would have to book it right away, which meant we could not consult our teammates. The ferry would take nearly an entire day to reach Izmir, Turkey leaving hours of driving until we reached Istanbul and would cost us nearly five hundred dollars to transport our team and Penny. Clearly this was not going to be an option. We would have to retrace our rout all the way back through Greece which meant at least an extra ten hours on the road before reaching Turkey.
Tom and I headed back to Athens. Our mission accomplished, we had the rest of the day to ourselves. We headed to parliament to see the changing of the guard, a highly stylized and laborious affair overseen by a regular army enlisted man who periodically straightened the guards kilt like costumes and wiped the sweat off their faces. We ran over to the old olympic stadium to snap some pictures and to the royal palace gardens for a short stroll. It was close to seven pm so we decided to make our way toward the Acropolis again.
While walking in the direction of the Acropolis, Tom suddenly exclaimed "hey!" I looked up. It was one of our classmates from Washington College of Law, Brian Kotick. We were stunned! We were in a rush to reach the Acropolis, but he gave us his cell number and we agreed to try to meet for drinks later. Once at the base, we circled around the winding roads looking for the parking lot where Lillie and Stephen left us that morning. In our excitement to get to the city center, Tom and I had not bothered to write a street name or memorize the location of the lot. After our second circle around the base I began to fear we would be late. We started asking random street vendors and shopkeepers if they knew where this parking lot was located. "It's the parking lot where the tour buses park at the Acropolis," we vaguely explained. No one had any idea what we were talking about. Tom and I were now moving around the spiraling road of the base at a half jog sweating profusely in the scalding heat. There was no way we would find it before eight pm this way. We decided to start retracing our steps throughout the day beginning at the hotel. We made our way to the hotel which was quite a distance away at this point. Together we retraced every turn and pause we had taken throughout the day alternating between a slow jog when we were unsure of our direction and a dead run when we were. We finally found the parking lot dehydrated and exhausted. It was nearly nine o'clock and there was no sign of Penny. They couldn't have left us after merely forty minutes we reasoned. THEY must be late. Tom and I sat on the curb watching the sun set over the ruins. "I bet you a beer they are half an hour late." I said. Tom bet me a beer they would be an hour late. We were both wrong.
After waiting an hour we started to get worried. Tom went up to a random man in the parking lot and asked him if he happened to have seen an ambulance pull up in the last two hours. He looked at Tom with utter confusion and answered that he had not. But the man began talking to us. We explained what we were doing in Athens and why we were worried about our team mates. The man offered to let us use his phone to call Lillie despite the expense of calling a long distance number! When I got her on the phone I could not quite figure out what had happened but I understood they would be at least three hours late. We quickly arranged a new rallying point in front of parliament so Tom and I did not have to sit on the curb for three more hours. We thanked the man for his generosity and made our way back to the city center.
We now had plenty of time to kill. We decided to give Brian a call to meet for a drink, but despite repeated attempts, we could not get his number to work. Dejected, we went in search of food and drinks ourselves. While deciding among the many restaurants in the tourist area I looked up to see a familiar face. I recognized this guy from WCL and sitting next to him was Brian! Fate had interceded yet again! Brian, Josh Keller (the guy I recognized, from WCL, but didn't know by name) and Ariel (someone we didn't know at all at the time) finished their dinner at the restaurant while Tom and I polished of some two dollar kabobs then we all headed out for drinks. Tom and I took them back to the rooftop restaurant to enjoy the view we had appreciated earlier.
Sitting in my sweat encrusted clothes and looking at my filthy feet and hands I began to wonder…would it be appropriate to ask? My desire won over social dictates. "Would you guys be willing to trade a ride to your hotel in our fabulous ambulance for showers for our team?" It was clear we would get the better end of the bargain, but they agreed with good humor. An hour later they were bouncing along in Penny on the way to their hotel. As it turns out, their generosity extended not only to letting use their shower, but also letting us sleep in their hotel room! Though they may have thought they didn't have much of a choice after I passed out on the end of the fold out cot.
After a restful night spent in a hotel room, we were ready to hit the road again. We attribute our speedy journey through Greece to the generosity of our WCL classmates. Thanks guys!
-j