August 02, 2010
by Stephen Jan in Yelini, Greece
After more than two hours of driving around in circles trying to get into Athens, Stephen and I dropped off Judy and Tom right in front of the Acropolis. We each had our own missions. Theirs was to find information on the ferry from Athens to izmir, while ours was to deliver a stretcher we had been given in Berlin to a place way up in the Greek mountains, where friends of ours were going to have a festival. We had no problem at all finding the tiny town, Evrostina half way up the mountain close to Xylocastro. Despite Greek street signs and crazy Greek car drivers using four lanes although there were only two, we made good time.
At the local restaurant in Evrostina we even met another group that wanted to go up the mountain. But before leaving Jorgos, the old German speaking owner of the place, served us the most delicious Greek food we ever had. Our new friends wanted to drive up the mountain after they finished their meal, but since we planned to pick up Judy and Tom in Athens at 8pm we decided not to wait for them to finish their Greek joghurt and ouzo but to start up the mountain immediately after lunch. They gave us directions: Drive up the mountain, you'll see a sign. Turn left and follow the path up. From the sign it'll take you 15 to 20 minutes to reach your destination. Sounds easy! So we headed up.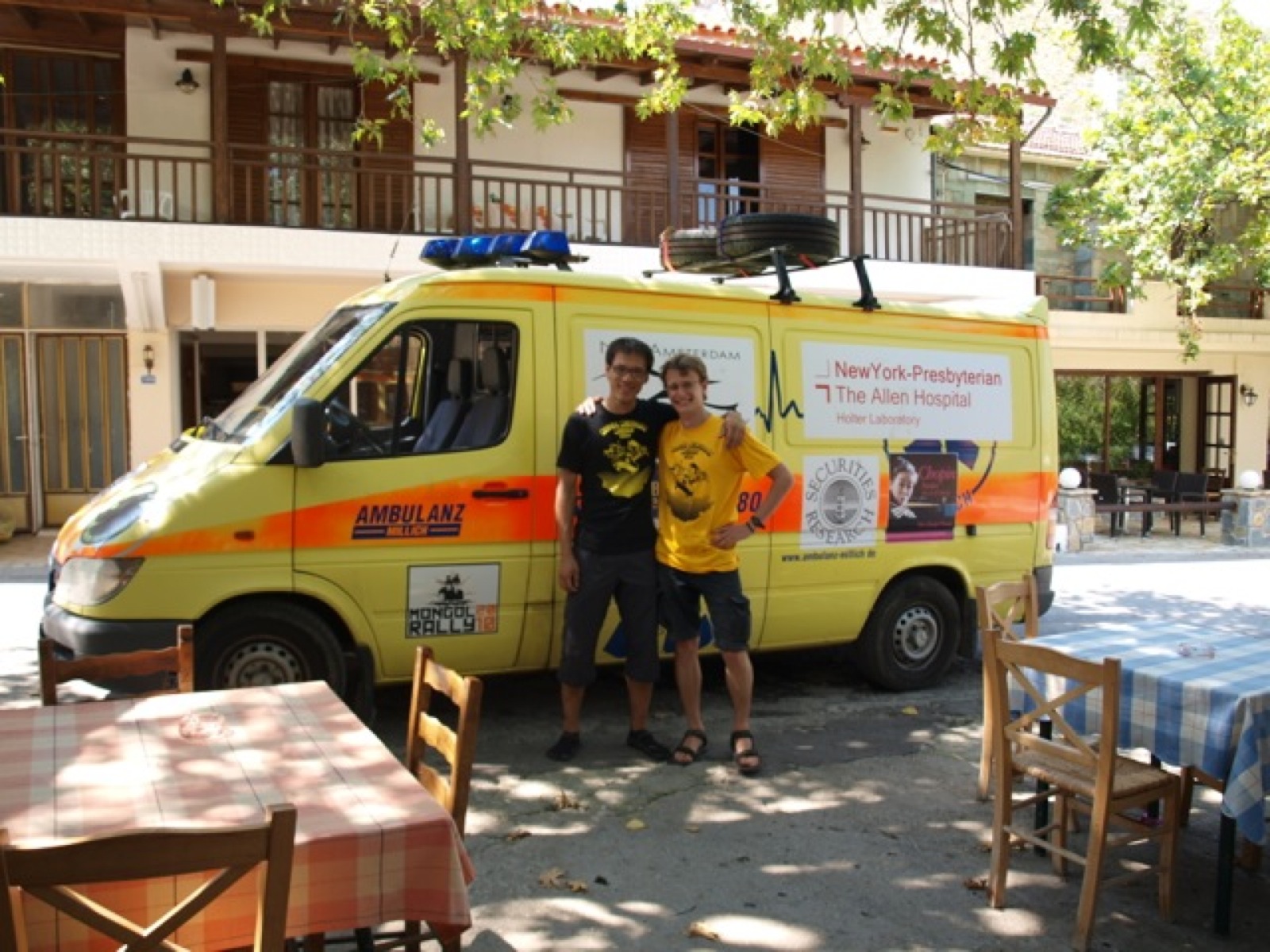 The path turned out to be a great preview to the Kasach desert roads waiting for us further east; A stoney, dusty road, winding up the mountain, so narrow that there was no space to turn, and a deep cliffside to our left that made our hearts beat nervously. Nevertheless the beautiful surroundings were breathtaking. From time to time we stopped to enjoy the view over the valley and the azure ocean, birds chirping in the background, and took pictures of our ambulance covered in dust. We kept on driving until we reached a little forest.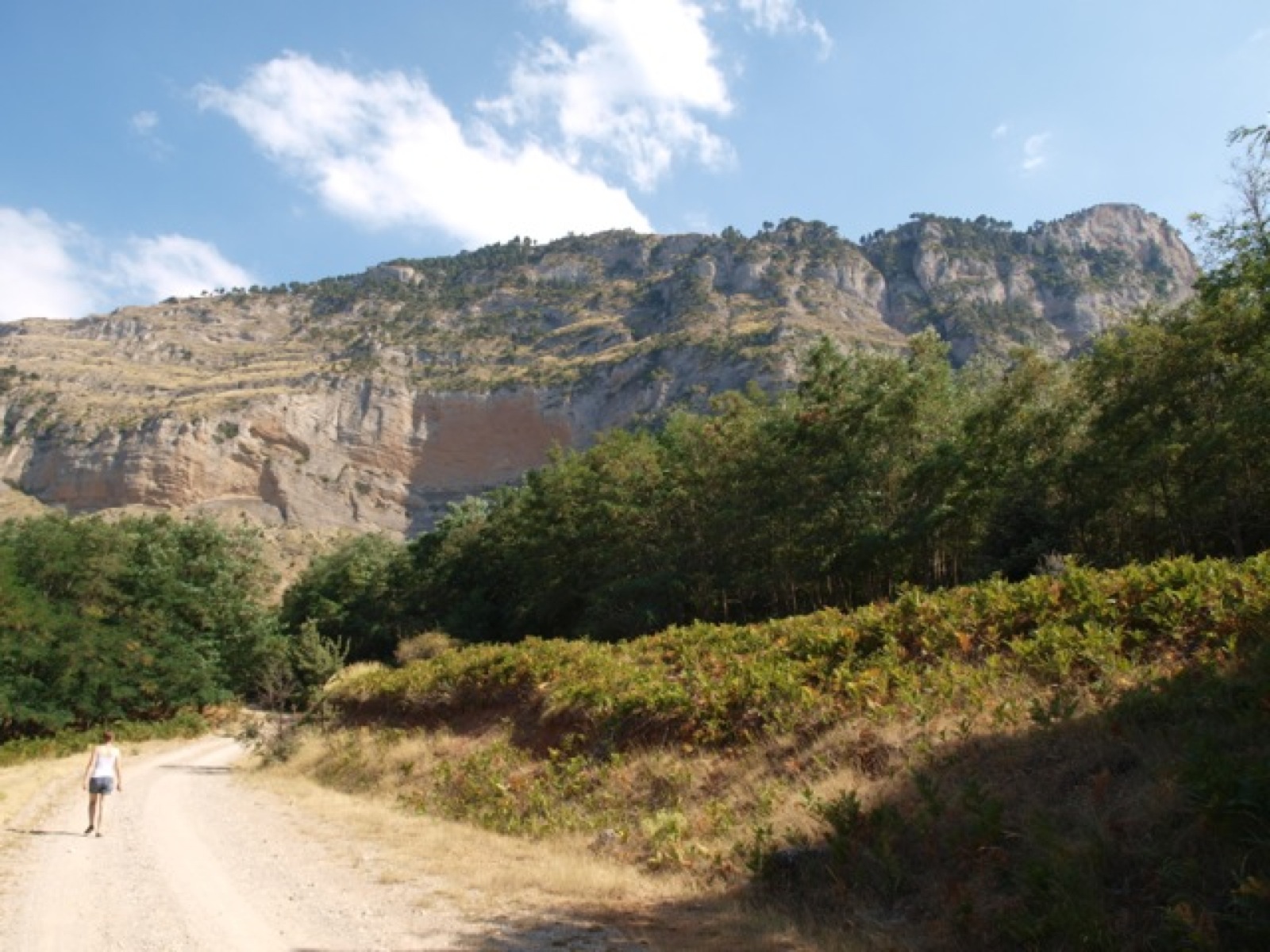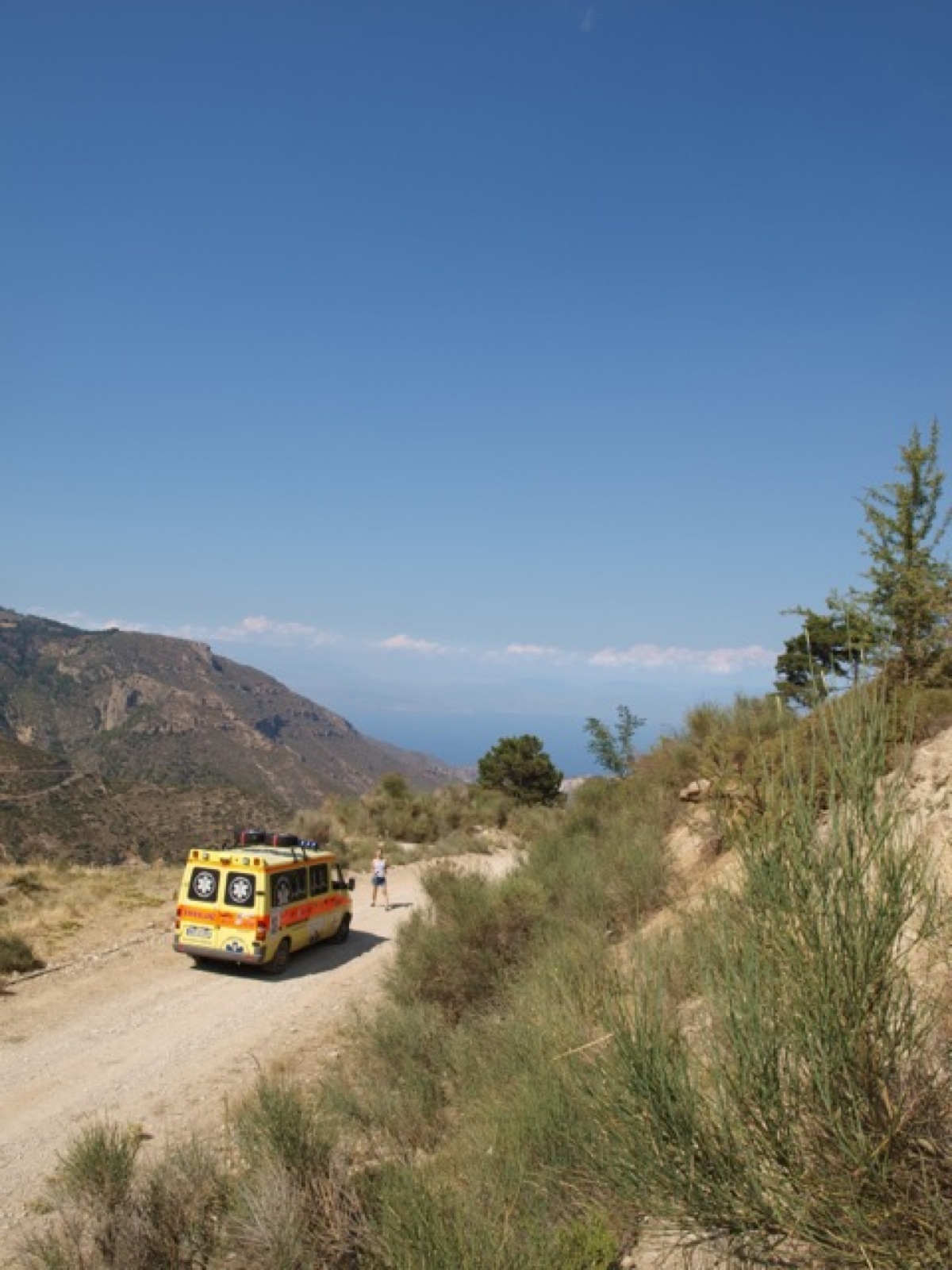 We were following the path for over 25 minutes and there was still no evidence of people. Fearing that we missed a turn, we turned around. We followed several other paths, driving up and down the mountain, looking for a place that looked like it was in need of a strecher, before we gave up and rolled back to Evrostina. Luckily we met another group taking a rest at Jorgos' restaurant on their way up. This time we decided to wait for them. 15 minutes later we followed their blue VW minivan. Unfortunately they were soon out of sight as their car appeared to have a stronger engine than our heavy Mercedes. After a few minutes of uncertainty we saw them again, way up, apparently taking the road we took earlier that day. We knew where to go!
Nevertheless, our attempt to climb the mountain failed again. When we hit a steep segment, poor old Penny began coughing and rattling, not moving an inch. We were too heavy. We tried different angles, maneuvering not half a meter away from the steep cliff. Probably she was just too exhausted after the ups and downs earlier that day.
Hoping to meet a third group we rolled back to Evrostina for the second time. Meanwhile the preparations for a party had begun. Jorgos and his employees were preparing gyros and lamb ribs while fat women built up popcorn and dessert stands. A Chinese couple unpacked immense amounts of toys and a long fold out table out of their tiny Honda, and neatly arranged plastic guns between barbies and fake watches.
Against our expectations there wasn't a third group waiting at Jorgos' restaurant just to take us to the mountain top. Since we didn't have anything else to do other than wait, Stephen started a conversation in Mandarin, convincing the Chinese toy seller to drive us up the mountain after he finished organizing the toys. After Stephen promised him 50€, he agreed.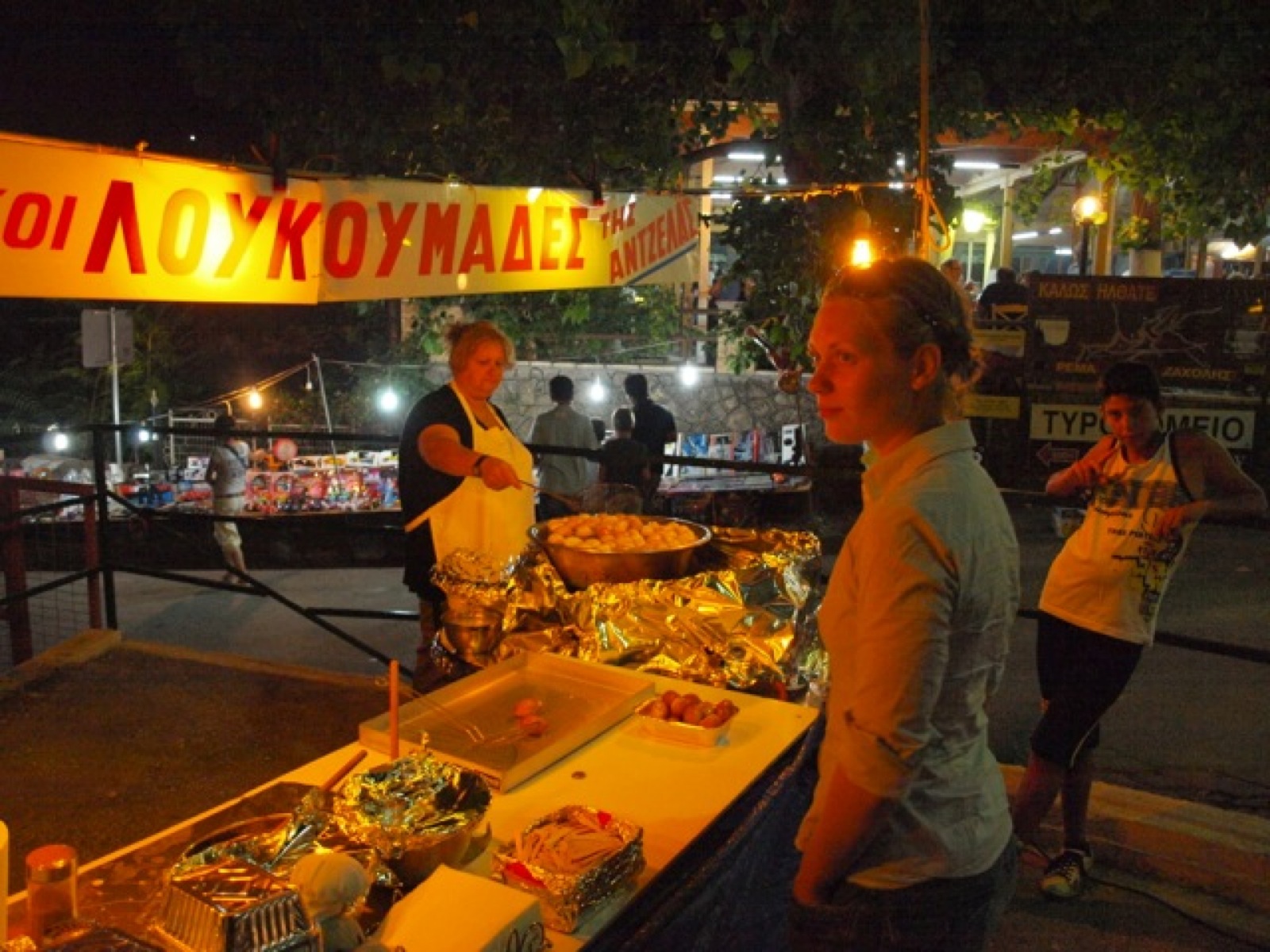 While waiting for the barbies to find their place on the table, I sipped Greek coffee with another old german speaking guy, though I didn't really enjoy hearing his life stories. The sun set, the mountains dissapeard in the dark and I was nervously checking my phone every fifteen minutes, waiting for Judy to call from Athens, asking, "where are you?" The Chinese toy seller took his time, declining Stephens more than once offered help. Finally we loaded the stretcher in his car and started our third attempt to climb the mountain. While Stephen chatted with the toy seller, getting to know his whole life story, I was praying for us not to fall off the cliff, as our Chinese driver had perfectly adopted the Greek driving style, ignoring the waiting depths next to us, now hidden in the dark.
Finally, at 9 pm, we reached the top of the mountain. A breathtaking amount of stars awaited us and our surprised friends were sad to hear that we had only ten minutes to drop off the stretcher before we had to leave again.
Before hitting the road, we could not resist picking up some of Jorgos' delicious lamb ribs, salad, and fresh cut fries. Then we finally started our way back to Athens to meet Judy and Tom …only five hours behind schedule.
-Lillie the Kid